Republicans on the House Homeland Security Committee released a scathing report Wednesday accusing DHS Secretary Alejandro Meyerkas of "willfully" dereliction of duty to the country as he implemented a "radical open borders agenda."
Chairman Mark Green launched a 'dereliction of duty' inquiry into Meyerkas earlier this year, amid criticism of how the administration has handled the border crisis, now in its third year. There were over 1.7 million matches in FY 2021 and over 2.4 million in FY 2022. The number remained similarly high in fiscal year 2023, but recently saw a decline in May and June.
I Interim Report The report, released Wednesday evening, accused the DHS secretary of "destroying effective policy" to implement an "open borders" policy agenda and ignoring nearly a dozen laws passed by Congress.
"On top of these failures to uphold the law and fulfill his oath of office, Meyerkas willfully undermined the sacred foundation of our constitutional republic, the separation of powers. He has abdicated his responsibility to enforce the laws passed by Congress, and he has refused to respect the decisions of the federal judiciary," it found.
House Homeland Republicans to launch investigation into Meyerkas' 'dereliction of duty' in handling border crisis
The report says it's not just a question of policy differences, and says policies must be "grounded in laws passed by Congress, and work for the benefit of the American people."
"This cannot be said to be true of Meyerkas' actions and policies as DHS Secretary. Therefore, it is the firm conclusion of this committee that Meyerkas is derelict in his responsibility, and that the neglect was willful," it says.
The report makes dozens of accusations against the secretary, arguing that he abused humanitarian parole to go beyond the "case-by-case" basis set out in the law, while ignoring court orders to reimpose Trump-era policies and "improper" requirements for detaining illegal immigrants.
It has accused him of repealing "effective" policies, including the construction of the border wall, Title 42 and the Migrant Protection Protocols (MPP), while implementing policies that he says are "actively benefiting" illegal immigrants. Specifically, it points to narrow Immigration and Customs Enforcement (ICE) guidance, coinciding with reduced deportations, increased use of catch and release, and "irresponsible rhetoric."
"Mearkas is required to remove illegal aliens, but under his leadership and policies, removals by ICE have fallen to historic lows, and the goals set by his department continue to fall." "He has even told ICE agents that an alien's illegal presence in the country is no longer sufficient grounds for removal, despite the clear language of the statute saying otherwise. He has also violated orders from a co-equal branch of government, refusing to fully and faithfully comply with a federal court order requiring him to reinstate Procol to Migrants."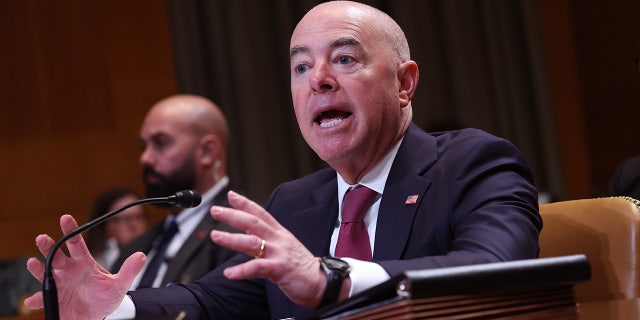 The report marks the latest in a series of hammerings at the secretary by Republicans in both chambers — some of whom have called for his impeachment. Green has stopped short of endorsing such a measure at this time, saying the committee is not there yet.
"My mission as chairman [the committee] is 'arriving at the facts'. So we're not talking about that. We are not using this word. "Every single thing we're going to look at, every single rock we're going to look under is to find the facts," he told Fox News Digital in June. "And the facts, I think, are going to show that he ignored laws passed by Congress, flouted those laws, was dishonest with Congress and the American people, among many other things. And we're just getting to the bottom of it all."
The number of immigrants dropped sharply in June as the Biden administration's post-Title 42 strategy took shape.
The Biden administration pushed back, pointing to a sharp decline in encounters at the border since the end of the Title 42 public health order in May. Figures for June show 144,000 migrant arrivals for the month, the lowest number since February 2001, although still higher than the number before 2021. Officials have also highlighted that it removed more people in fiscal year 2022 through Title 8 and Title 42 than in any other fiscal year to refute claims of "open border" policies.
Meyerkas will testify before the House Judiciary Committee amid GOP scrutiny over the border crisis
The administration has linked the drop in encounters to measures taken since Title 42 expired in May, including a significant and historic expansion of the use of parole to expand legal immigration pathways — along with an asylum rule that limits immigrants from claiming asylum if they entered illegally and passed through a country from which they already failed to claim asylum. The rule is currently facing legal challenges from both left-wing activist groups and GOP-led states. DHS officials have also pointed to Meyerkas' statements in which he has repeatedly emphasized that the United States is a "nation of laws."
"Secretary Meyerkas is proud to advance the Department's noble mission, support its exceptional workforce and serve the American people," a DHS spokesman said Wednesday. "The Department will continue to build a safe, orderly and humane immigration system, enforce our laws and secure our border, protect America from terrorism, and improve our cybersecurity."
"Instead of pointing fingers and pursuing baseless impeachment, Congress should work with the department and enact comprehensive legislation to fix our broken immigration system, which hasn't been updated in decades," the spokesman said.
Democrats on the committee also criticized the report.
"Since Extreme MAGA Republicans had already determined months ago that they would impeach Secretary Meyerkas, they are busy trying to produce so-called 'evidence' to do so," Ranking Member Benny Thompson said in a statement. "But their cooked-up narrative is not the truth."
"I understand that Republicans have been banking on chaos at the border for months and are now panicking that the administration's policies are working, but there is no valid basis for impeachment. Any attempt to do so would be a travesty. We are here to serve the American people, not the right-wing special interests in Washington," he said.
Click here to get the Fox News app.
However, there is no sign that the secretary's scrutiny will stop anytime soon. The report published on Wednesday is only an interim report of the first phase of the investigation, the second phase of which is already underway.
Meanwhile, the House Judiciary Committee will hold a hearing next week in which Meyerkas will be present — and will likely face criticism from Republicans on the border crisis.
Source by [Fox News]