A member of the Cincinnati Reds' grounds crew wasn't as sharp as he should have been during Monday night's season delay at Great American Ballpark.
In the eighth inning of a 2-2 tie between the San Francisco Giants and the Reds, it started raining and the grounds crew was instructed to remove the tarp.
A member of the grounds crew slipped and was swallowed up by the massive tarp as the rest of the crew continued to drag him onto the infield dirt.
The Great American Ballpark has a history with so-called "tarp monsters." Two years ago, a tarp wreaked havoc when a ground crew member briefly disappeared at the start of a weather delay in Cincinnati.
CLICK HERE FOR MORE SPORTS COVERAGE ON FOXNEWS.COM
"Did we talk too soon?" asked a Bali sports broadcaster.
"Mayday! He got eaten by the tarp … he didn't even stop, no pause," another broadcaster noted humorously.
REDS call up Christian Incarnation strand as top prospect amid recent offensive struggles
Monday night's game was the first of a four-game Reds-Giants series. After a nearly two-hour delay, play was suspended and scheduled to resume on Tuesday.
The ground crew member eventually escaped the tarp's clutches.
"Oh my goodness, and we finally got that guy out too… finally," noted a broadcast crew member.
"He's all right. He's a bit dirty," said another broadcaster.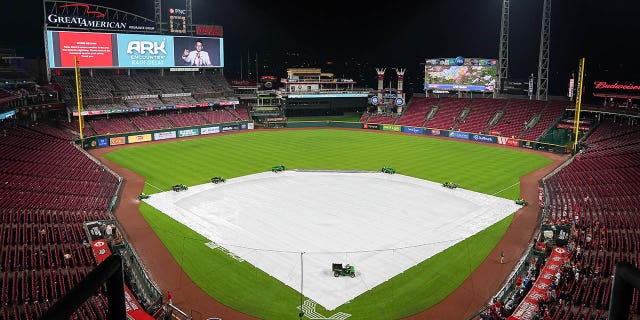 The Reds grounds crew also needed some extra help securing the tarp to the ground amid some treacherous winds.
Reds president of ballpark operations Sean Brown did his best to lend a hand to the grounds crew by lying on the field and hanging on to the tarp for dear life.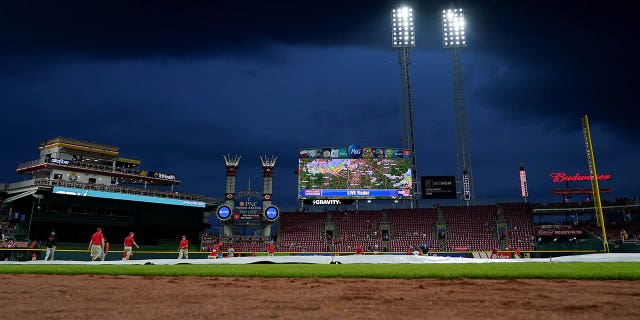 "And now, uh, the wind is catching the tarp," the play-by-play announcer said during the broadcast.
"They haven't staked it yet. One of the grounds crew members was almost airborne. He just did a 'stop, drop and roll' with his body to try to get it on the ground."
The Giants had runners on second and third with one out and third baseman J.D. Davis was up to the plate before Tarp was brought out.
Click here to get the Fox News app.
The Reds and Giants are scheduled to play Tuesday at 7:10 p.m. ET after the game resumes.
Anthony DeSclafani started the second game of the day for San Francisco against the Reds' Luke Weaver.
Source by [Fox News]