Demonstrators, angry over the burning of a copy of the Holy Quran in Stockholm, stormed and set fire to the Swedish embassy in Baghdad.
Videos shared on social media showed protesters climbing a fence and waving flags and signs in the compound depicting influential Iraqi Shiite cleric and politician Moqtada al-Sadr.
The images also show a building identified as an embassy and protesters holding copies of the Holy Quran in the air.
Footage later showed smoke billowing from a building in the complex and protesters standing on its roof.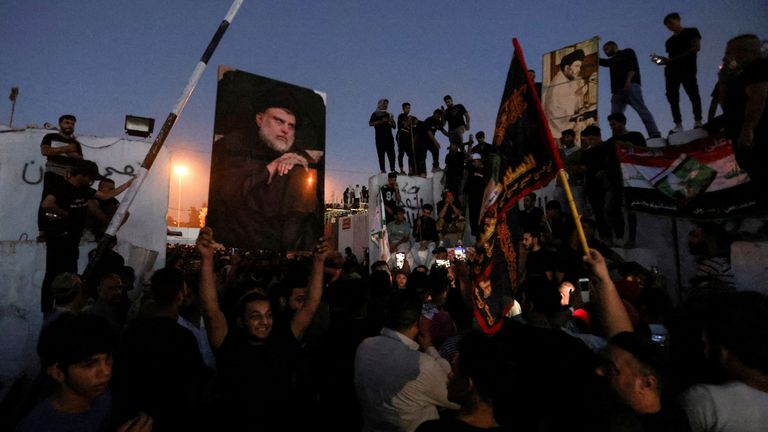 Sweden's foreign ministry said in a statement that all personnel were safe.
"We condemn all attacks on diplomats and staff of international organizations," she said.
"Attacks on embassies and diplomats are serious violations of the Vienna Convention.
"Iraqi authorities have a responsibility to protect diplomatic missions and diplomatic personnel."
The Ministry of Foreign Affairs of Iraq has also issued a statement condemning this attack.
"The Iraqi government has directed the competent security authorities to immediately investigate and take necessary precautionary measures to uncover the circumstances of the incident and identify the perpetrators of this act and hold them accountable in accordance with the law," it said.
Read more world news:
Two people were shot dead in New Zealand just hours before the start of the Women's World Cup.
'I was jailed for a £4,000 debt with Al-Qaeda terrorists'
The protests came after police in Sweden reportedly approved a request for a demonstration outside the Iraqi embassy in Stockholm on Thursday – during which two protesters planned to burn the Koran and the Iraqi flag.
For Muslims, burning the Koran represents a sacrilegious desecration of their religion's sacred text.
In late June, Muqtada al-Sadr called for protests against Sweden and the expulsion of the Swedish ambassador after a copy of the Holy Quran was burned by an Iraqi man in Stockholm.
Two large protests followed the burning of the Holy Quran outside the Swedish embassy in Baghdad, with protesters at one point trespassing on the embassy grounds.
Source by [Sky News]