Holding off Uxbridge and South Ruislip on Friday morning at least gave Rishi Sink a life jacket to hang on in a by-election washup – a 2-1 defeat rather than a 3-0 defeat.
Popping up in Oxbridge, the Prime Minister used his narrow victory (Boris Johnson's old seat by just 495 votes) to emphasize that the outcome of the next general election "No deal has been reached".
But these results will not give the Conservatives enough confidence to avoid contesting the next general election.
Politics Live: Is Keir Starmer set to become the next Prime Minister?
be it Labor wins in Selby and Ansteyor Liberal Democrats Victory at Somerton and FromeThe common thread in both results is the two opposition parties performing similar to by-election results in the waning days of the 1992-1997 Conservative government that collapsed with Tony Blair's landslide.
It was an epochal election — and these results only reinforce the idea that the next one is likely to be as well.
For Labour, the win in Selby is historic.
It was the biggest Tory majority – more than 20,000 – ever overturned by Labor in a by-election, and the second biggest swing – 23.7 per cent – from the Tories to Labor since the Second World War, beaten only by Tony Blair in Dudley West in 1994.
Sir Keir Starmer finds himself in the kind of territory – in the polls and this election – that Mr Blair claimed before his big victory.
They need a 12 percent swing – Blair achieved a record 10.7 percent swing in 1997 – to pick up 124 seats and secure a majority.
Selby is the Conservatives' 249th most vulnerable seat and so losing the rural Tory stronghold would leave the Tories with a majority of 15,000 feeling very uncertain.
For the Lib Dems, Somerton and Fromme's victory is their fourth consecutive by-election in this parliament, not achieved since the days of Paddy Ashdown in 1992-1997.
It has given the Lib Dems confidence they can rebuild in the West Country, which the Tories almost destroyed in 2015 after five years of coalition government.
Somerton was the Lib Dems' 53rd worst seat in the 2019 general election, so they have a lot to go on next year.
By-elections: What do the results mean for UK politics?

Sink sees a way to destabilize labor.
For conservatives, though, there is some glimmer in all of this.
A person in Mr Sink's top team told me that Oxbridge had given the Prime Minister hope that if he could block Labor on issues of substance, there was an opportunity to create dividing lines between Labor and the Tories that would give Mr Sink a chance.
"We will have a sharp political decision next term, forcing Starmer out of the shadows and preventing him from becoming a gray man. You will hear more about the wedge issues in September," he said.
Mr Sink, I am told, is not much of a "culture wars" prime minister, but he will fight on issues where he believes he can disrupt Mr Starmer's policies and put himself on the right side of the electorate.
Already the Tories are talking about Labour's £28bn annual investment in green energy to deliver green power by 2030 as a clear area of ​​influence.
The narrative would certainly have been clearer for Labor if Mr Sink had lost all three by-elections.
But the results in some ways reinforce the patterns and political strategy we've seen since Truss's defeat and Sink's emergence as prime minister – the Conservatives are miles behind in the polls, local and by-elections underpin a potential change of power at the next general election and Labor can't take anything for granted, with the top team now borrowing their strategy against "bat-war in elections".
"The result may not be clear, but it is clear," says a senior Labor figure. "Selby shows how far we've come and the potential of what we can do.
"Winning the confidence of many voters in a strongly Tory part of the country who have never voted for us."
But it's also true from Uxbridge that support cannot be taken for granted, and Labor can be destabilized when a campaign falters.
"Uxbridge shows that voters' support is conditional and they won't support us if we don't act in their interests," says a senior Labor figure. "We must put the voters first, our priorities must be the people."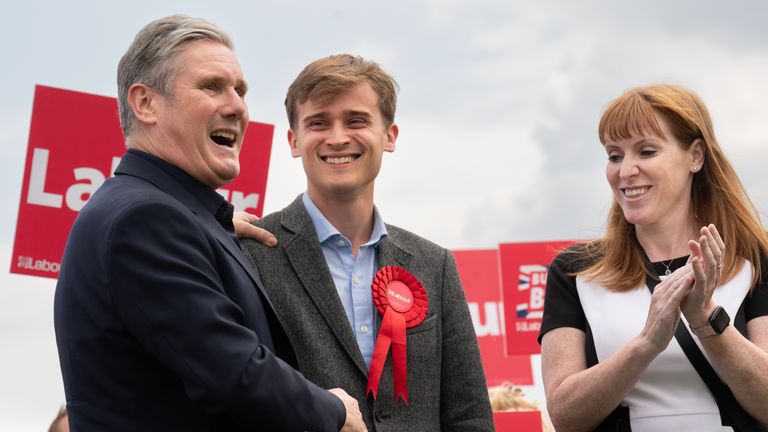 Both Sink and Starmer will be doubled.
From sticking to the two-child limit on child benefit, to only making spending promises that have been funded through tax increases (such as ending non-dom status and charging VAT on private school fees), Labor is determined not to open a corner on economic mismanagement.
I'm told it's all about focus and persuading the 'small' conservatives to get into the Labor column at the general election.
There will be no radicalization by Starmer that costs money.
Instead, he will try to signal "change" through policies that don't cost money – reforms and devolution to the planning system (although I think the Tories could target it by unveiling a green investment plan).
A total of 21 per cent away from the Tories in these three by-elections is clearly disastrous for Mr Sink.
But he also knows his party won't change him now – even those who don't like him or support him don't accept the Conservatives can't change the prime minister again – and so he will double down on his five promises and sharpen his lines of attack on his opponent.
These three by-elections reinforce the fact that the biggest losers in the race for No. 10 are Mr Starmer and Mr Sink with everything to win.
We may be 18 months away from a short election campaign, but these leaders will fire the guns on the long campaign in earnest in September.
General elections are always bloody and pledges are even more dangerous. strap inside.
Source by [Sky News]