Not only is Zach Arnett the only rookie among the Southeastern Conference's 14 coaches, he's the first Hispanic in league history as well as the youngest at 36.
He's been around the league long enough to know Tuesday that he broke the standard set by his former boss and predecessor at Mississippi State. Not only did Arnett wear a tie to talk to reporters, he also used a lot more than the seven words Mike Leach used in his opening remarks at SEC media days a year ago.
"I've said a lot already, and combined with wearing this tie, I'm sure I let him down a little bit here today," Arnett said. "Recognizing his tremendous impact and influence not only on the game of football but on myself, I'll do my best to keep it short and sweet."
CLICK HERE FOR MORE SPORTS COVERAGE ON FOXNEWS.COM
Arnett was named head coach in December after Leach died unexpectedly of heart disease. He then coached the Bulldogs to a bowl win against Illinois in January. Arnett and the Bulldogs face high expectations even without the coach known as the Pirates after going 9-4 last season.
It was the fourth time in the last nine years that Mississippi State has won nine or more games. Arnett made it clear that he wanted to continue Leach's established identity as "tough, hard-nosed, disciplinarian".
So bring a lunch box and a hard hat. The physical game Leach likes isn't going anywhere.
"When I first interviewed him and talked to him about what he thinks are the key things about building a winning football program, it's not talking about scheme," Arnett said. "It's all about the effort you play with, the physicality and persistence."
Arnett was the Bulldogs' defensive coordinator during Leach's three seasons at Starkville. As Arnett prepares for his first full season as a head coach, he's relying on his lessons to be larger-than-life predecessors.
"Simply put, I see it as a blessing," Arnett said. "I got to spend three years under him, a consensus first-ballot Hall of Famer in my opinion. I mean, his fingerprints and impact on the game of football is evident in modern football, especially in the offensive game."
Former Northwestern quarterback describes hazing as 'degrading, inhumane, shameful'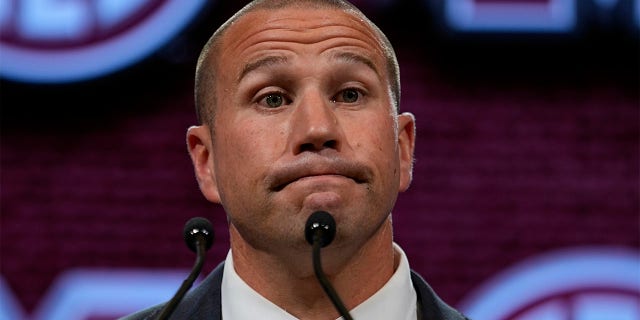 Guess who's back.
The SEC has another coach going into his first year at a new school. This may be Hugh Freeze's first season at Auburn, but he's back in a league where he coached Mississippi in 2012 before resigning in July 2017 following an investigation into his personal conduct.
"It's good to be back," said Freese, who went 34-15 with three bowls and has won the past four seasons at Liberty.
Freeze is not the first coach to coach at two different SEC schools. Steve Spurrier coached at Florida, then South Carolina. Before his brief stint in the NFL, Nick Saban won a national title at LSU and has dominated since taking over at Alabama.
Freeze is now the third different coach who once worked at Arkansas State to run Auburn. He said Tuesday that when he left Ole Miss, he never asked to coach in the SEC again.
"How someone responds and reacts to them probably tells you more about them than their accomplishments," Freese said.
Beating Arkansas, BYU, Virginia Tech and Syracuse while at Liberty made Freese think he might have a chance at the Power Five again. Freeze also talked to former Auburn and Arkansas State coaches Gus Malzahn and Brian Horson about Auburn.
Former Iowa Hawkeyes offensive lineman Cody dies at 23
"Obviously, Gus is a dear friend of mine who I've talked to about a lot of things, and he's very appreciative of Auburn and the people and what's going on there," Freese said.
The Tigers went 5-7 last season, including 2-6 in SEC play. They didn't receive a bowl invitation for the first time since 2012 and fired Horsen after less than two seasons. Freese has qualified for eight bowl games in 10 seasons as a head coach with Ole Miss, Liberty and Arkansas State.
"I don't see any reason why Auburn shouldn't be one of the top half and contend every year," Freese said of his expectations. "Look, if you're at the top of this conference, you get a break here or there, you're in the playoffs. Then you've got a real chance. That's where I see Auburn."
SEC Construction Zone
Vanderbilt opens the season Aug. 26 in Hawaii, and the end zones of the Commodores' football stadium are construction zones.
Renovations are underway at First Bank Stadium on campus as part of a plan to modernize both the football and basketball facilities. First Bank Stadium, the smallest football stadium in the SEC, has not undergone major renovations since 1981.
Click here to get the Fox News app.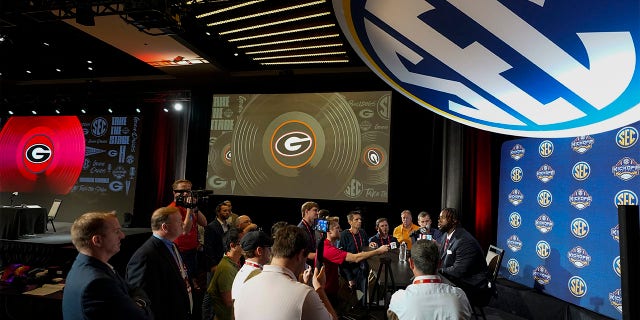 "A year from now, two years from now, we're going to have a really tough place for an opponent to come and play," said Vanderbilt coach Clark Lee, who is entering his third season at his alma mater.
For now, there are lots of closed roads, dirt and construction materials. But Lee said the private university's commitment to improving its athletic facilities will pay dividends in recruiting.
"It gives us the landscape to picture the future, and in short order we'll talk about Vanderbilt football with modern facilities and great resources," Lee said. "When did you say that?"
Source by [Fox News]