Developers have accused the government of not doing enough to tackle falling levels of housebuilding, as Michael Gove prepares to unveil plans he says will boost construction – without blighting the countryside.
In an expected speech on Monday, leveling and Housing The secretary will set out measures aimed at "unblocking the planning system" and promoting development in urban areas.
The Prime Minister has also announced that the manifesto promise of building 1 million new houses will be fulfilled in this Parliament.
Government sources say a separate commitment to build 300,000 new homes a year by the mid-2020s still stands, despite the former Tory housing minister saying last May that this would be "by the country mile".
Mandatory house building targets for local authorities were dropped by ministers last year after Conservative MPs were concerned about the impact of the developments.
Rishi Sink He said the solution to Britain's housing shortage was not to "concrete the countryside".
He added: "Our plan is to build the right homes in the heart of Britain's great cities where they are needed most and where local support is available… by regenerating brownfield land, streamlining the planning process and helping homeowners to renovate and extend their homes outwards and upwards."
But the Home Builders Federation said the plans "do little to address the major causes of housing supply shortages" and questioned whether there was enough brownfield land available to meet demand.
Stewart Beasley, the group's executive chairman, said: "The increasingly anti-growth policy environment is reducing housing supply, particularly young people's access to decent housing, driving up job prices and reducing economic activity.
"If the government is serious about increasing housing supply, much more decisive action is needed."
In a speech in central London yesterday morning, Mr Gove It is expected to make several recommendations, including:
The creation of government-sponsored development corporations – modeled on one set up by the Thatcher government in East London – with powers to buy land and sell plots to developers using compulsory purchase orders.
A new 'super squad' of planners and other experts to help prevent critical developments. The team will initially be based in Cambridge to work on expansion projects.
Launch of 'Planning Skills Delivery Fund' to address backlogs and improve skills in the sector.
Higher fees are levied on developers to help improve planning services.
New flexibility to convert shops, takeaways and betting shops into homes and cuts to administration to convert barns and rebuild farm buildings are needed.
A review of 'permitted development rights' to facilitate the public to extend homes, convert lofts and renovate buildings.
Read more:
More shops can be converted into houses.
Average asking rent hit a record high.
Flooding forces flat residents to evacuate.
The organization representing local authorities criticized the Government's plans to increase flexibility in planning rules though – saying property conversions should be handled through regular planning applications.
Councilor Shaun Davies, chair of the Local Government Association, said: "Further expansion of permitted development rights creates poor quality living environments that negatively impact people's health and wellbeing, as well as the lack of affordable housing or adequate infrastructure."
A report by the cross-party leveling-up committee earlier this month concluded the government was on track to deliver one million new homes during this parliament, but said dropping mandatory targets would make it harder to meet the annual target of 300,000 extra properties.
Government figures show 687,000 new homes have been delivered since the start of 2019, reaching a peak of 242,700 in the 12 months to April 2020.
But in May last year, former housing minister Robert Jenrick – who now serves at the Home Office – predicted that housing building would collapse in the near future and miss the target of 300,000 by "a country mile".
Does the government's rhetoric on building houses correspond to reality?
Rising property prices have led to a big increase in the age of first-time buyers, with high deposit requirements stopping many people from getting on the housing ladder altogether.
A lack of supply has also forced rents up, while rising mortgage rates are making the situation even more unaffordable.
It is difficult to put a figure on how much new housing is needed, but most estimates are between 300,000 and 340,000 per year.
Ministers have previously said at this point that an increase in supply will start to have an effect on bringing prices down – although some question the logic.
Reaching that figure was dealt a blow when the government announced last year that it would no longer implement development goals.
The change was brought about by rebel Tory MPs and follows the defeat of the Lib Dem campaign in the Chesham and Amersham by-election centered on local unrest over planning reform.
Housebuilders say 58 local authorities have already withdrawn or suspended their local housing plans due to falling short of targets.
Yesterday's push is designed to reassure the public on the issue of housebuilding without scaring traditional Tory voters (and their MPs) who are worried about buildings being built in their backyards.
While the government press release outlining the plans is peppered with positive references from developers like Persimmon and Kerr, and bodies like the RIBA and the Royal Town Planning Institute, you don't have to look far to find deep skepticism about whether the government's rhetoric matches reality.
As well as reducing housing targets, criticism centers on the complex planning process, environmental regulations and whether there is enough brownfield urban space to meet demand.
Like tackling climate change, building new homes is something most people agree needs to happen – and yet, viable and scalable solutions that everyone can agree on always seem thin on the ground.
Industry sources have also expressed doubts whether the government will fulfill its promise of Rs 10 lakh amid rising costs in the sector.
Housebuilders say a reduction in mandatory targets combined with the enforcement of pollution rules by Natural England has led to a record low of approved planning permissions.
The environmental watchdog has been accused by developers of blocking 145,000 homes because of so-called "nutrient neutrality rules" focused on endangering waterways.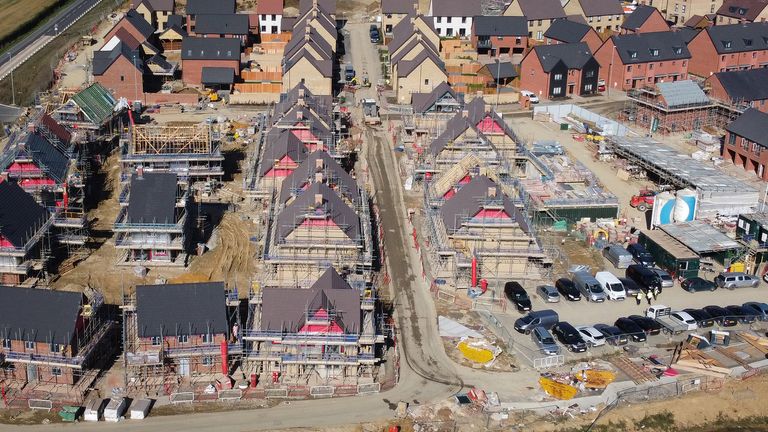 In an interview with the Sunday Telegraph, Mr Gow said ministers needed to work with Natural England to ensure the balance between building new homes and protecting the environment was right.
Before his speech, Mr Gow said: "At the heart of this is to ensure that we build beautiful and empowered communities to contribute to the development of their region."
But Labour's shadow housing secretary Lisa Nundy said the Conservatives had failed to deliver enough new homes while in government.
He said: "When the housing crisis worsens on their watch, and when housebuilding is set to hit its lowest rate since the Second World War as Rishi Singh hands over his own MPs, the Tories have the brass to make more promises."
Source by [Sky News]