A British family spent a night sleeping on the floor of a school after being evacuated from a wildfire on the Greek island of Rhodes.
The Bowrey family were ordered to leave their rented villa near Lindos on Saturday night after receiving an emergency alert on their phone.
19,000 tourists and locals have been evacuated in Rhodes due to the forest fire.
The fire started in the mountainous center of the island, but with strong winds and bone-dry conditions quickly spread eastward to villages and seaside resorts.
Weather – Latest: Greece's biggest ever evacuation over forest fire in Rhodes
After receiving an evacuation warning late last night, the Bowery family rushed to an evacuation site in a minivan that had been set up at a school, where they and hundreds of others spent the night.
Finley, 23, who recently attended his COVID-delayed graduation on vacation with his parents, said he managed "45 minutes" of sleep on the floor.
"I just had my Crocs and a pillow," he told Sky News.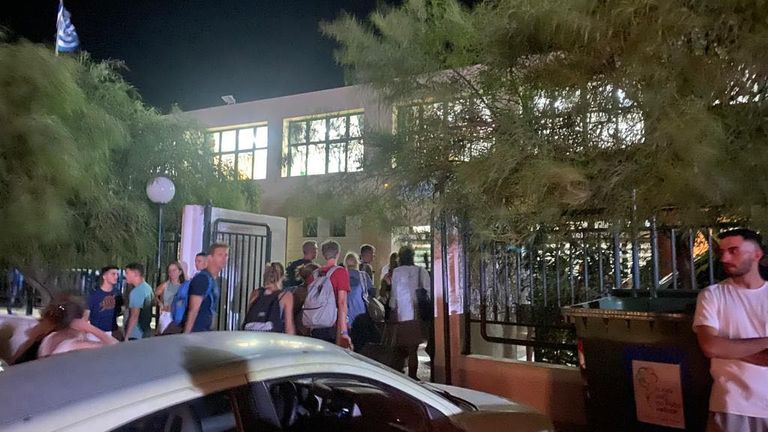 "There were hundreds of people there. There were a few mattresses, but they were reserved for children and some elderly people.
"People came and brought us water and snacks. They were doing what they could to help everybody."
"They were real angels – we were so grateful to them for that," added his mother Victoria.
"It felt well prepared — like they were training for this situation."
Speaking about the evacuation, he said: "As we were going to the evacuation site, we saw smoke and a red hue in the distance.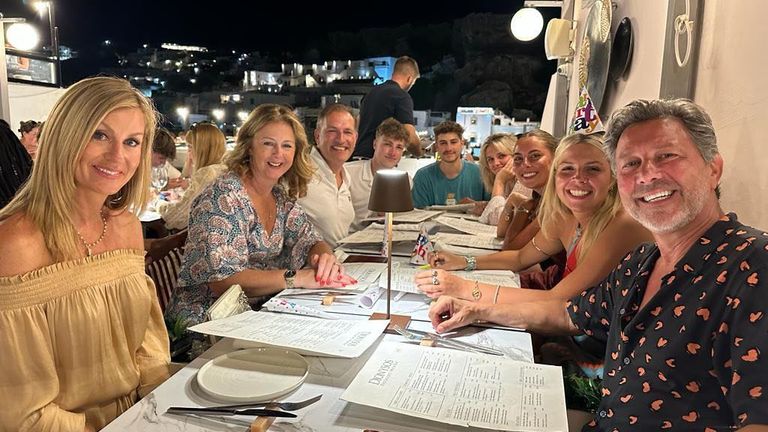 "It looked like the whole island was on fire."
The family, who arrived in Rhodes last weekend, are due to fly back home to Dorset on Monday.
But they face the prospect of delays, as hundreds of other tourists try to leave the island.
'We feel like caged animals'
Another holidaymaker, Ben Wright, told Sky News how he was stuck at Rhodes Airport for 18 hours after his flight home was delayed.
"We were forced to sleep on the floor of the airport as easyJet did not provide us with any accommodation," he said.
"We've been stuck here for 18 hours and easyJet have continued to delay our flight to Gatwick, giving a different reason each time.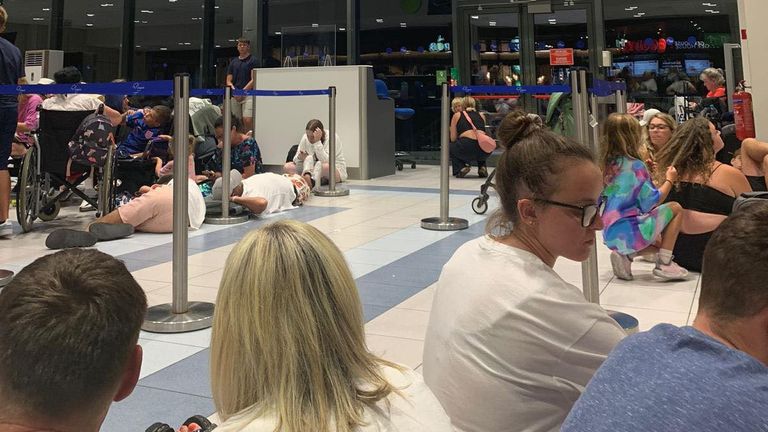 "A lot of people have come straight from the beaches and have been evacuated from burning hotels. We are a mix of evacuees and other tourists like us.
"We feel like caged animals."
Passengers have been told that a plane is being flown to pick them up this afternoon, but it may not be big enough to carry all the people currently at the airport, he said.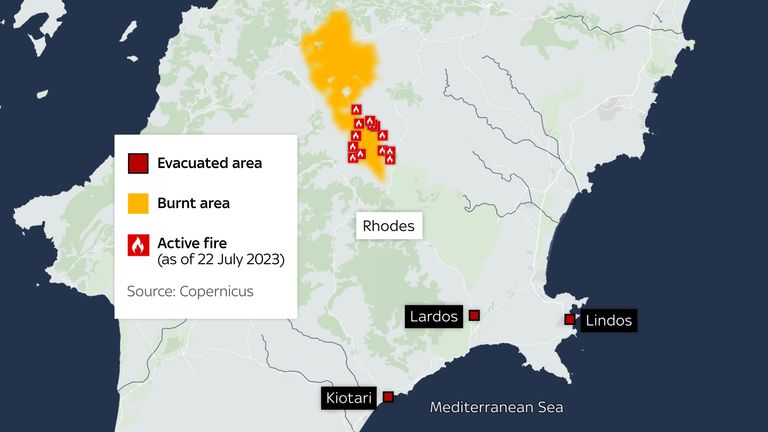 Read more:
Rhodes bushfires: What rights do holidaymakers have?
British tourist says trying to escape flames 'was like the end of the world'
The Greek government says a total of 19,000 people have been evacuated – 16,000 by land and 3,000 by sea – in what it describes as the "largest ever" wildfire evacuation in Greek history.
Several locations east of The island has been evacuated.including three seaside resorts.
About 2,000 tourists have been evacuated from Kitari and Lardos on the island's southeast coast.
Firefighter 'lost everything' last night

An alert is also in place for Lindos, popular with tourists and famous for its hilltop acropolis dating back to 300 BC, as well as the villages of Masari, Malonas, Charaki.
The Foreign and Commonwealth Office is urging Britons on the island to follow the advice of the Greek emergency services and contact the consulate for advice on leaving Rhodes.
Source by [Sky News]