About 20,000 people have been evacuated from a Greek island as wildfires continue for a sixth day.
Travel agencies in Europe have canceled flights to Rhodes until Sunday as thousands of residents and holidaymakers fled the island to escape the wildfires. Police on the island said 16,000 people were evacuated by land and 3,000 by boat from 12 villages and a handful of hotels.
According to local officials and eyewitnesses, most of the evacuees are vacationers. Rhodes is a holiday destination known for its beach resorts and historic sites such as the Acropolis of Rhodes.
"Many people were turned away from hotels in Gennadi – many in only swimsuits were told to leave everything at the hotel," British tourist Kevin Evans told UK outlet PA. "As night fell, we saw fires on the hilltops in Keutari. They said all the hotels were on fire."
Highways closed, oil refinery at risk of Greek forest fire
According to The Guardian, a Belgian tourist said he spent Saturday on foot and had nowhere to go.
"We told the hotel about the messages we received on our phones to evacuate the area, but they didn't even know," tourist Cedric Gossett told public radio station RTBF. "We really only took our ID cards, water and something to cover our faces and heads."
A spokesman for the Greek fire brigade said the evacuation was the largest in the country.
Wildfires threaten vacation homes near Athens, Greece
"This is the largest operation to safely evacuate residents and tourists that has ever been carried out in our country," Greek fire brigade spokesman Ioannis Artopios said, according to The Guardian.
The manager of a hotel in Lardos, a village on the island of Rhodes, said he had to evacuate about 400 people – mostly holidaymakers from France and Italy – from the hotel this weekend.
"Fortunately, no one was hurt here," hotel manager Jory Vesey said, according to The Guardian. "The situation is not just because of the tourism aspect, but because the island burned down. The area was very beautiful, very green, lots of animals. I hate to think what happened. It's black, turned to ash. It's very sad. It's not about losing a week or two of tourism; it's about the impact on people's lives."
Greece's conservatives won the election with a huge majority
Europe is in the grip of a heat wave, with fires raging across Greece, including on the island of Evia and the Peloponnese region. According to Reuters, the Rhodes fire broke out on Tuesday and was fanned by high winds.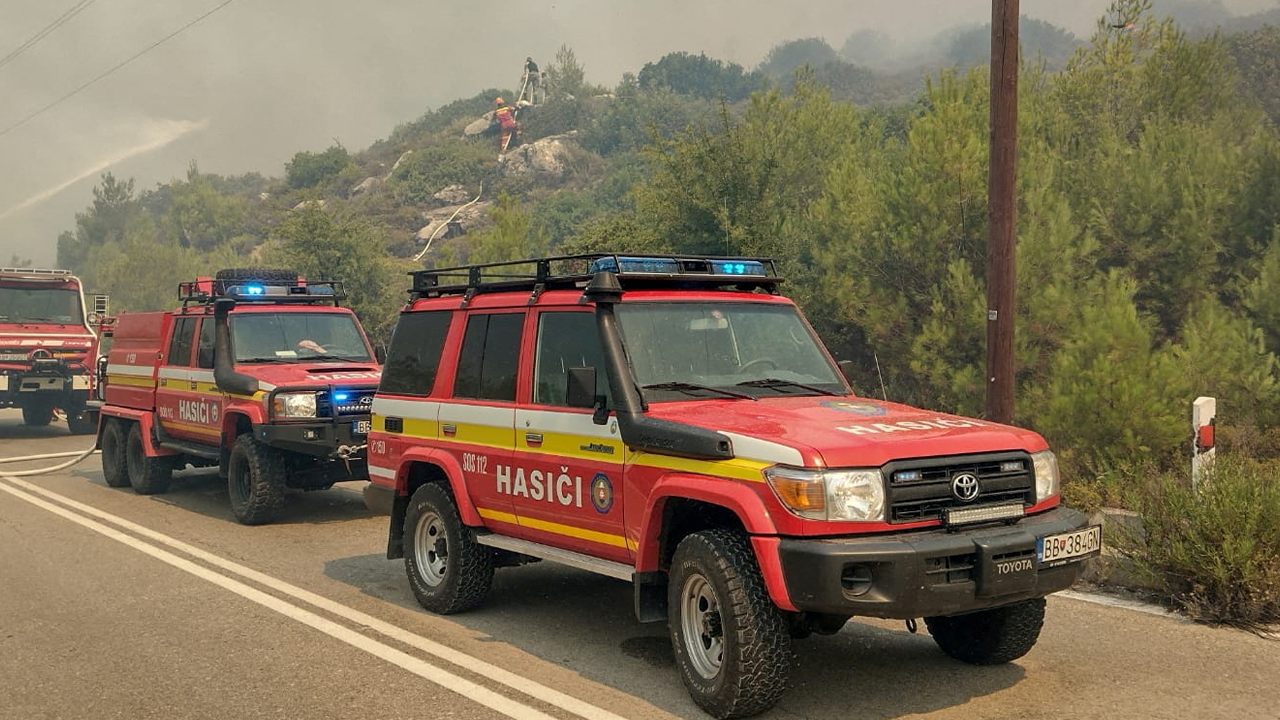 Rhodes Island reached a high of 96 degrees Fahrenheit on Sunday, and temperatures are expected to remain in the low to mid-90s for the rest of the week.
Click here to get the Fox News app.
Firefighters from across Europe have been deployed to Greece to help control the flames.
"More than 450 EU firefighters and seven aircraft are working in Greece as fires continue to spread across the country," EU Commissioner for Humanitarian Aid and Crisis Management Jens Lennarcic tweeted on Sunday afternoon.
Source by [Fox News]