The newest addition to Walt Disney World's Magic Kingdom will debut this spring.
The TRON Light Cycle/Run is set to open on April 4, 2023. roller coaster, The original TRON Light Cycle Power Run at Disneyland Shanghai will be near Space Mountain in Tomorrowland.
"Prepare to enter the grid. It's almost your turn. Ready? TRON Light Cycle/Run opens at Magic Kingdom Park on 04/04/23," tweeted the Disney Parks blog.
Hours before the official announcement, the Disney Parks Blog tweeted a video with TRON light cycles that spelled out the number four twice.
Disney issues behavioral warning to park-goers as fights rise: 'Be the magic you want to see'
Leading up to the big announcement, Disney had been tweeting cryptic videos hinting at the coaster's expected opening date.
The first video on Monday showed a video game scoreboard with the caption "Need a clue?" Which is a reference to Jeff Bridges' character Clu in the movies. The scores on the board appear to represent important dates for Disney and the TRON franchise.
Disney guests stuck on 'It's a Small World' for over an hour: 'Violence'
According to the Disney Parks Blog, the story of TRON Lightcycle/Run begins after 'TRON: Legacy' where Kevin's son, Sam Flynn, opens another gateway to a digital realm known as the Grid.
Once guests enter the queue, Disney says they'll feel like they've been digitized and transported to the grid for a special light cycle race. To ride the coaster, each person will hop into their own motorcycle-like light cycle for a high-speed race through a semi-enclosed structure.
WDW's website describes the ride this way:
"Get on your very own light cycle and embark on a high-speed adventure as you race against the grid's most dangerous programs. As you try to cross the 8 energy gates and ensure your team's victory, your fiercest opponents. leave behind. So you can live. Run another day."
The attraction will be one of the fastest roller coasters at any Disney theme park in the world.
According to the blog, cast members will be the first to enter the grid during a special preview, followed by preview opportunities for Annual Passholders and Disney Vacation Club members.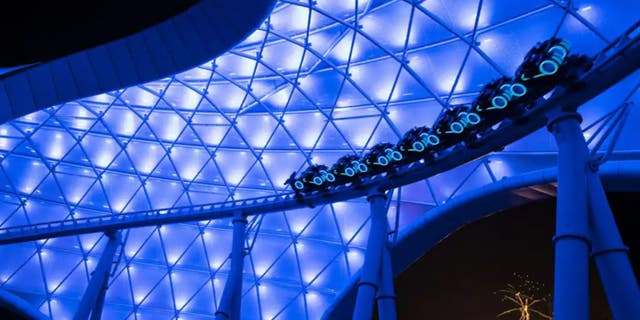 Click here to get the Fox News app.
The ride was announced in 2017 during the Walt Disney World Parks and Resorts presentation at the D23 Expo. Initially, former Disney CEO Bob Chapek said the plan was to open the attraction in time for WDW's 50th anniversary celebration, which ends in March 2023.
Source by [Fox News]